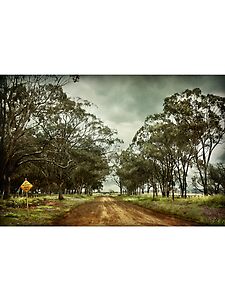 This is a road not too far from my home.
Hours after I shot this the sky clouded over and down came the rains that cut this road, drenched us solidly for a month and culminated in the destructive force of the Toowoomba floods.
Never in 185 yrs has Toowoomba experienced such a thing. Certainly no-one expected it. Why would we? We're situated at the top of the Great Dividing range, on the top of an escarpment, with beautiful views to the valley below. Why would it flood up here?
But flood it did, and sadly the massive destruction that we experienced up here was just the beginning. Floodwaters raged down into the valley, destroying all in it's path, giving little or no warning to most….
I live in a beautiful place. Our region is well known for it's beauty and the fertility of the land.
I hope in time to come the people of Toowoomba, the Darling Downs & Lockyer valley will remember the beauty of this place. Remember what it is that makes us live here & love it so much.
For me it's scenes like this. I love the trees & the dust. Love that a road might only be accessible in the dry, that I have to stop to let a kangaroo cross the road in front of me, or pull over on the side of the road to watch the Magpies & Galahs singing together on a fence post. (I wish I'd caught a shot of that).
I love that only 10 minutes from my suburban home I can be in the bush again.
So this year I'm going to be appreciating this great land that I live in just that bit more.